Goodreads: Well Met (Well Met #1)
Genre: Contemporary Romance
Panda Rating:

All's faire in love and war for two sworn enemies who indulge in a harmless flirtation in a laugh-out-loud rom-com from debut author, Jen DeLuca.

Emily knew there would be strings attached when she relocated to the small town of Willow Creek, Maryland, for the summer to help her sister recover from an accident, but who could anticipate getting roped into volunteering for the local Renaissance Faire alongside her teenaged niece? Or that the irritating and inscrutable schoolteacher in charge of the volunteers would be so annoying that she finds it impossible to stop thinking about him?

The faire is Simon's family legacy and from the start he makes clear he doesn't have time for Emily's lighthearted approach to life, her oddball Shakespeare conspiracy theories, or her endless suggestions for new acts to shake things up. Yet on the faire grounds he becomes a different person, flirting freely with Emily when she's in her revealing wench's costume. But is this attraction real, or just part of the characters they're portraying?

This summer was only ever supposed to be a pit stop on the way to somewhere else for Emily, but soon she can't seem to shake the fantasy of establishing something more with Simon, or a permanent home of her own in Willow Creek. ALL THE SWOONING AND GOOD FEELS! Who the heck knew that reading Shakespeare and making out in the 'classics' aisle of a bookstore could be so freaking sexy?! Nobody warned me how much I'd be giggling and swooning throughout this read, but of course everyone was right in saying that it's an awesome read. I'm really kicking myself for putting this off for so long! Literally knocked this out in one night because it was such an easy, fun and loveable read that I didn't even realise it was 6am until I heard the birds chirping outside. I've never been to a Renaissance Faire before and neither did I ever think about going to one but after this, it's high up on my bucket list! The descriptions of the setting weren't overwhelming but I could still easily envision this amazing faire and strolling through the lanes in this forest closed away from the world. Being enraptured by the jousts and human chess matches. Eating a turkey leg… Sounds like such an amazing time!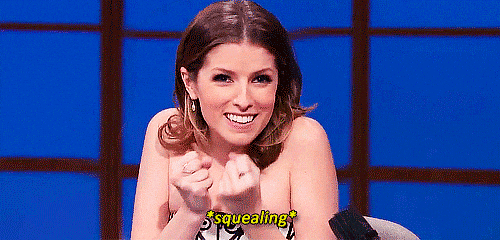 *squealing* I loved Simon and Emily and shipped them hard! Both were so relatable and their personal struggles so realistic. Emily is so easy to love and her level of relatability was a total stab in my feels. She's smart, reliable and has such a huge heart and capacity for love; if she cares for you, she would literally drop everything or put her life on hold to help you out. Her horrible breakup left her self-esteem shaken and had her questioning her worth and if she was ever going to be good enough. Oh man, my heart hurt so badly for her! But I'm so glad that in the end she realised her worth and stood up for herself, and I'm so glad that her support system (sister, faire friends) showed up and told her that she made the right decision for herself.
I was a bit put off by Simon at the start and it had me wondering how this stuffy/snobby know-it-all was going to bring out the big charm. We didn't have to wait too long to see the potential (hello, Captain Blackthorne!) but it was pretty hot and cold for a while until 'the real' Simon emerged to woo our lady off her feet. And let me tell ya, the man can woo real well!
There was a whole lot more swooning going on by this point! But just as my heart hurt for Emily, my heart broke for Simon. He's a genuinely hard-working, passionate and big-hearted guy who's stuck hard in the past. He really questioned his worth outside of being known as the serious younger brother. I lost count of how many times I wanted to reach through the pages to sweep him up into a panda hug (and never let him go)!
The supporting cast was also wonderful though. I loved that they had more depth to them than I expected, especially Mitch! I loved Chris and Stacey, and even April grew on me by the end. *wistful sigh* this was such a feel good, heartwarming romance and my heart is still soaring thinking about that perfect ending and how happy this book made me feel! After reading the preview chapter of the next book, I can hardly wait until Fall 2020 for it to get into my hands–and this time I'm not putting it off for forever!
Have you read Well Met or is it on your TBR?