Today is my stop on the TBR & Beyond Tours for Glimpsed by G.F. Miller. Special thanks to Simon & Schuster Books for providing the ARC in exchange for an honest review!
Be sure to click on the banner above to check out the rest of the amazing bloggers on tour!
Goodreads: Glimpsed
Publisher: Simon & Schuster Books for Young Readers
Publication Date: 05 December 2020
Genre: Young Adult Contemporary/Fantasy

Panda Rating:


(4 pandas)
Perfect for fans of Geekerella and Jenn Bennett, this charming, sparkly rom-com follows a wish-granting teen forced to question if she's really doing good—and if she has the power to make her own dreams come true.

Charity is a fairy godmother. She doesn't wear a poofy dress or go around waving a wand, but she does make sure the deepest desires of the student population at Jack London High School come true. And she knows what they want even better than they do because she can glimpse their perfect futures.

But when Charity fulfills a glimpse that gets Vibha crowned homecoming queen, it ends in disaster. Suddenly, every wish Charity has ever granted is called into question. Has she really been helping people? Where do these glimpses come from, anyway? What if she's not getting the whole picture?

Making this existential crisis way worse is Noah—the adorkable and (in Charity's opinion) diabolical ex of one of her past clients—who blames her for sabotaging his prom plans and claims her interventions are doing more harm than good. He demands that she stop granting wishes and help him get his girl back. At first, Charity has no choice but to play along. But soon, Noah becomes an unexpected ally in getting to the bottom of the glimpses. Before long, Charity dares to call him her friend…and even starts to wish he were something more. But can the fairy godmother ever get the happily ever after?
BUY NOW: Amazon (US) | Barnes & Noble | Indigo | Indiebound
G.F. Miller can write 80,000-word novels, but ask her to sit down and write 250 true and meaningful words about herself and she is likely to have an existential crisis. Who am I, really? She ponders. What do I want to be known for? Does anyone even read the back flap or visit author websites? But eventually she will pull herself together and tell you that…She married her college sweetheart and is mom to three littles who routinely make her heart burst and her head explode (it's a messy business, love). There are puppies big and small residing at her house (you'll be seeing a lot of them if you follow her on Instagram). She's been to a dozen countries, but not nearly as many as she would like. She loves learning all the things. She cries at all the wrong times. She makes faces at herself in the mirror. She believes in the Oxford comma. And she's always here for a dance party. While the stories she has brewing in her soul vary wildly from one another, there are three things they will always have in common: love, snappy dialogue, and happy endings
Author socials:
Website | Instagram | YouTube | Goodreads
Glimpsed was an incredibly fun and cute YA contemporary with elements of magical realism (it is about a teenage fairy godmother after all) and I sped through it in one sitting. I had such a good time reading this book! It gave me mild 80s/90s romance movie vibes a la "She's All That" and "Say Anything" and as I was reading, I could see this clearly playing out like a movie in my head. There's no doubt that Miller captures the essence of teenhood + high school so well! I liked how the fairy godmother aspect was weaved into the story and the simple explanation we got about how it worked. The plot ended up having some fun twists and turns that I wasn't expecting but it was definitely in the best way!
I really liked our MCs, Charity and Noah. From the start, Charity's story really pulled on my heartstrings. My heart broke for how lonely she is and how she saw herself and what she deserved–I just wanted to pull her into the biggest, longest hug! If there's one thing I really didn't like it was her family. They were pretty awful to her, even the person who she relied on most to be honest with her, and I felt Charity deserved so much better than their half-baked excuses and projected issues. Charity is certainly flawed but what I appreciated about her character was that she wasn't averse to recognising her mistakes and doing the best she could to rectify them. I loved that she's a good person, although at times she goes about it the wrong way out of a mistaken sense of purpose, she genuinely loves to help others find their HEA. I found her attitude refreshing and the personal growth that she experiences throughout the story was heartwarming!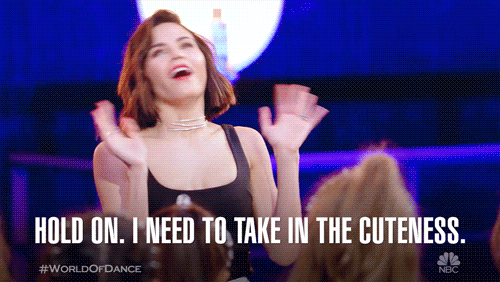 Noah was the most 'adorkable' character and I loved everything about him. He was such a sweetheart and so serious about his love for Star Trek–which turned out to be a whole family love affair and it was *chefs kiss*! SO good! Although we only get small glimpses of his family and their dynamic, you could feel how much love there was between them and every time their Star Trek banter would make it on-page, I'd find myself immediately breaking out into a huge smile. Noah was a very perceptive character and I loved how he supported Charity without straying from his principles. Together they were the cutest! Theirs was a slow-burn enemies-to-friends-to-lovers romance that I rooted SO hard for! Their big meet-cute had me in serious laughing fits because they were both so hard-headed and awful (not in a bad way), and it became so painfully awkward that it was hilarious. Despite their vast differences, they were truly perfect for each other and really deserved their HEA!
That said, I did have issues connecting with Charity's relationship to others. She's meant to be this super popular girl who sets trends and who everyone wants to be, but if the author hadn't specifically written out those moments, I never would've guessed it because she doesn't come across that way at all. She might've been purposefully distanced from the other characters, but I felt that it did a disservice to creating a more full character for her. This also applied to her friendship with Sean, who was one of her Cindies and who suddenly became her "best friend" despite years of not talking, and they very rarely spend time together in the book, which made all of that difficult to believe. I guess I just wanted more of a strong connection to make her character feel more real.
Overall, I would definitely recommend this if you're looking for a feel-good YA contemporary. Reading this at the start of 2021 has definitely made me feel happier and I'm thankful for the good vibes ❤️
A

fun and easy-to-read contemporary

with plenty of heartwarming and laugh-out-loud moments!
For those who love to connect to their inner geek: a lot of

Star Trek references

that were amazing and adorkably fun!
Speaking of adorkable…

Noah is a totally adorkable and wonderful book boyfriend

!

Relatable teenage protagonists

in a story that, while bubbly and all smiles on the surface, takes a

deeper look into feelings of loneliness and self-worth

.
A very well-deserved HEA (Happy Ever After) that will have you going "aww" and leave you feeling like you're floating on a cloud of happiness 🥰
JOIN the

GIVEAWAY (US/CAN ONLY)

to WIN a finished copy of Glimpsed!
Enter the giveaway ➡️ HERE!
Have you read Glimpsed or is it on your TBR?