This year is definitely the year of the blog tours for me as I'm back with another one for you and this time it's for Jack Janson & the Storm Caller. Special thanks to Heather Fitt from Overview Media for asking me to be part of this blog tour and to author Andrew Marsh for providing a free copy in exchange for an honest review! Don't forget to check out the other bloggers on tour.
Goodreads: Jack Janson & the Storm Caller
Published: 05 August 2019
Genre: Middle Grade, Fantasy
Panda Rating:

Jack Janson is nearly fourteen, an only child living with his parents who hate him almost as much as they hate each other. The only good things about his life are the girl next door, Sarah-Jane Farmer, whom he adores, and his Granny Jean in Cornwall who he spends the summer holidays with.

His gran is cool but she has been hiding a HUGE secret. As her health fails, she decides to share the secret with Jack.
Gran leads Jack to a cave.
"Boom Tom tum" a loud voice echoes and a rock opens up to reveal a young giant called Winfred Storm Caller. Gran has been looking after the friendly giant since pirates killed his mother, but she now needs Jack to care for Winfred.
Sarah-Jane arrives to help and they uncover The Book Of Lore hidden in the cave.

What magic does it possess?
Have they found a way to get Winfred home to his own lands?
Are Sarah-Jane and Jack brave enough to use the book to save Granny Jean's life?
This was an interesting read that I ended up enjoying more than I expected to. I think it's definitely something that young readers will enjoy and it's a nice introduction to fantasy with some magical elements. I think boys who are going through those in between tween and teen years would especially enjoy and perhaps relate to Jack's story!
I'm going to come right out and say it: I really didn't like Jack at the start! There were some red flags waving with Jack's attitude that had me worried about how this would affect my reading experience. Thankfully, Jack matured well as the story progressed and I thought his character arc was done nicely. I felt more empathy for him as we learned more about how difficult things have been at home. His parents were so… 🙈
My favourite parts were the ones with Jack and his grandma. Jack becomes a completely different kid when he's around her. He's helpful, kind, thoughtful (though he does still have his moments!), and is emotionally vulnerable. I think it really goes to show how much a person's environment affects them. His behaviour at the start was from having to deal with a sad home situation with selfish parents, but in a healthy and nurturing environment, his attitude flipped completely. I think it's rare to see young male characters like how Jack became around his grandma. I loved that young readers get to see his softer side that shows it's okay to be vulnerable and it's healthy to express emotions, and it doesn't make you weak if you do so. I really appreciated that about this story!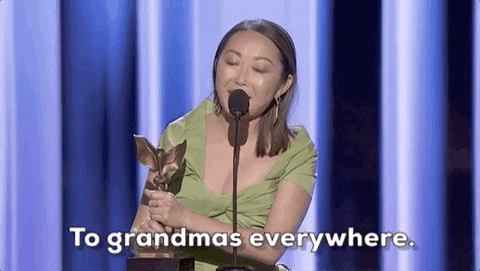 Grandma Jean was such a wonderful character–she's definitely the cool and understanding grandma but who also won't put up with any nonsense! Winfred Storm Calmer was also such a sweet giant. Although I found his manner of speech difficult to follow, I liked learning about him and other giants!
That said, there were some parts of the story that I found uncomfortable and it mostly had to do with the descriptions of young female characters such as SJ (Jack's neighbour, best friend and love interest). Is this how teenage boys full of raging hormones see the opposite sex? I guess it's not impossible to suppose, but I didn't see that it added to the story. And that brings me to the romance aspect. I think the story would've benefitted if it focused on their friendship rather than on an awkward romance…
Overall though, this was a well-paced and heartwarming story about family, growing up and finding your place. It's a good introduction to the fantasy genre for young readers and I think many will enjoy Jack Janson's story!
Andrew Marsh
Author, speaker, story teller.
Andrew is a 55 year old former geologist from the construction industry who discovered a passion for writing inspired by things that happened at work, on sites, and in life generally.

With the winnings from his appearance on The Weakest Link in 2003, he self-published his first novel, The Long And Winding Road in 2004. In 2014 he self-published his second novel The Truth, an adult crime thriller which is still available in Amazon in both formats. Since then he has written a fantasy trilogy, which is still being worked on and his current Young Adult WIP, the Jack Janson series.

Four years ago, Andrew was diagnosed with Asperger's Syndrome which has brought great understanding to his life and this has also prompted him to write poetry on a number of topics, including his Asperger's. Andrew attends the Writers' Summer School, Swanwick, has presented there on two occasions and also served on the committee.

Andrew also blogs about writing.
Have you read Jack Janson and the Storm Caller?