Hello, hello and welcome back to another episode of WWW Wednesday, a weekly meme hosted by Sam @ Taking On A World of Words, which means I'll be answering these questions:
What did you read last?
What are you currently reading?
What will you read next?
Since last Wednesday I've managed to read… three books!
Nevermoor: The Trials of Morrigan Crow (Nevermoor #1) by Jessica Townsend ★★★★★
This was such a wonderful, fast-paced and heartwarming adventure! There may be a lot of elements that are similar to and remind me of Harry Potter but to me, this was just as enjoyable. The characters were all funny, charming and very quirky. The pacing was also fast and I couldn't recommend this more if you're looking for a simple, well-written fantasy/adventure to take your mind off current world news. Review coming soon!

Warcross (Warcross #1) by Marie Lu ★★★★☆
The ending of this book should be illegal! What a bleeding cliffhanger–if Wildcard didn't already exist I would be pissed (and I absolutely mean this in the best way)! 🤣 This book was a helluva journey and I was here for every minute of it! The Warcross world gave me strong Ready Player One vibes but a simplified and easier to understand version that made reading it a breeze. I was sucked in from chapter one and I became fully invested in all our characters! Really keen to see what happens next… Review coming soon!

The Sunday Potluck Club (The Sunday Potluck Club #1) by Melissa Storm ★★¾
It took me several tries to actually get into this book but once I did it was a fast and fairly easy read. That said, it left me feeling pretty "meh" and was very different to what I expected. I thought there would be chats shared during the Sunday Potluck Club but what I got was insta-love, a lot of romance angst, and not particularly likeable characters… I really didn't feel for any of them! Review coming soon!
I've been saying it everywhere and to everyone: I haven't picked up a book since last Friday! Since I got Animal Crossing (and Spyro) last week I haven't been able to put down my Switch for very long. I'm just a little obsessed and when I get sucked into these gaming modes, the only thing I know that will help is to play it out of my system! Hopefully it happens soon…
Technically though I am still reading Jade City. It's enjoyable but not sucking me in very quickly and it's taking me much longer to read than I expected… Tonight I'm also starting my buddy read of Ruthless Gods with Sammie @ The Writerly Way! It's happening… I swear I'm putting down my Switch!
I have so many freaking blog tour reads that I needed to basically start this past weekend if I wanted to stay on top of things BUT LIFE??? (so this Elmo gif is still really valid)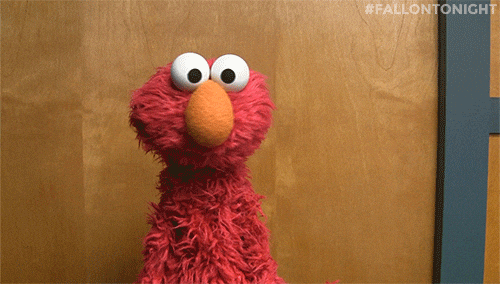 How is your reading week going and what are you currently reading?