It's Friday and I usually do a "Lets Talk Bookish" post but my brain has been feeling pretty foggy lately and I haven't the capacity to write good posts, so I decided to do a fun tag! I have a million that I still need to do but, of course, I decided to do one that I wasn't actually tagged in! It seemed perfect for the upcoming holiday season though. Can you believe it's practically already mid-December? 🙃 WOT.
I saw this on Stephen's blog and if you haven't already, I'd recommend checking it out because Stephen writes great posts and reviews, and is all around awesome! 😉 Now without further ado, let's get to the tag!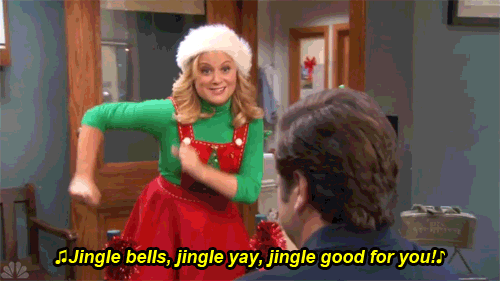 The Jingle Bell Book Tag was originally created by Richard @ The Humpo Show
🎄 "All I Want For Christmas Is You…" 🎄
What book do you want to see under the Christmas Tree?
Is it really possible to choose one book? If you can, you definitely have a lot more restraint than me! But if I had to choose only onetwo, the books that come to mind are: A Song of Wraiths and Ruin and Felix Ever After. I still haven't bought the ebooks cos I really want physical copies of these beauts 😂
🎄 "Simply Having A Wonderful Christmas Time…" 🎄
WHAT book that you have read this year have you enjoyed the most?
Surprising absolutely nobody: The House in the Cerulean Sea. I mean… Is this answer getting old? I really don't care because this book was all kinds of heartwarming and wonderful. My heart fills up with all the fuzzy feelings when I think about it and if you haven't already, please read it! 🤣
🎄 "It's Beginning to look a lot like Christmas…" 🎄
Which book has THE most festive look to it?
Ooh, this is a toughie because there are so many festive covers that I absolutely adore. I just recently did a post with Christmas romance covers that I think really scream 'festive' vibes. Some more examples:
🎄 "ELF" 🎄
What book unleashes your inner child?
Charlie and the Chocolate Factory. This book is one of my top favourite childhood reads and every time I read it or hear mention of it I get thrown back to the giddy feeling I got when I read this book for the first time. The joy that the chocolate factory and all its wonderful oddities gives me is really like no other and when I was a kid I absolutely lived for the magic of this story! 🥰
🎄 "The gRINCH" 🎄
your favourite villain…
I think this is gonna be a toss up between Eli and Holland but both are villains in Schwab's books (Villains and Shades of Magic, respectively). I really love to hate these two 😂
🎄 "The HOLIDAY" 🎄
Name your favourite TWO couples…
Oh this is so tough because I read a lot of romances and whenever I love a romance I ship those ships in a big way 😂 The first two couples that popped into my mind were: Calla & Jonah from The Simple Wild (*swoon*) and Maia & Edan from Spin the Dawn (*still swooning*)
🎄 What book would you like to give as a present to your followers? 🎄
Hmm… I guess I should go for something other than Cerulean Sea? 😂 I'm also gonna pick a few because I can! These books are from (mostly) different (sub-)genres and ones that I feel deserve more love (well, TPW gets a lot of love but I can't not mention it because this book!!!). This is kind of inspiring me to do an end of year giveaway, so maybe stay tuned for that? 😉
And that's a wrap, folks! This was fun and exactly what I needed because I didn't have to think too hard at the end of a long working day/week. On that note, I'm not tagging anyone specifically but feel free to link back if you wanna do the tag so I can check out your answers too! 🥰
Have a great weekend, friends! Mind yourselves 💙