We're back with another Sundays in Bed With… meme! This meme dares to ask you what book has been in your bed this morning and is hosted by Midnight Book Girl. Come share what book you've been you've spent time curled up reading in bed with, or which book you wish you had time to read today!
I stayed up well into Sunday morning (the sun was out and the neighborhood coming to life) in order to finish reading The Wall of Winnipeg and Me by Mariana Zapata and then managed to catch a few hours of zzz's before finishing getting up to finish The Bookish Life of Nina Hill.
Vanessa Mazur knows she's doing the right thing. She shouldn't feel bad for quitting. Being an assistant/housekeeper/fairy godmother to the top defensive end in the National Football Organization was always supposed to be temporary. She has plans and none of them include washing extra-large underwear longer than necessary.

But when Aiden Graves shows up at her door wanting her to come back, she's beyond shocked. For two years, the man known as The Wall of Winnipeg couldn't find it in him to tell her good morning or congratulate her on her birthday. Now? He's asking for the unthinkable.
What do you say to the man who is used to getting everything he wants?
Meet Nina Hill: A young woman supremely confident in her own…shell. The only child of a single mother, Nina has her life just as she wants it: a job in a bookstore, a kick-butt trivia team, a world-class planner and a cat named Phil. If she sometimes suspects there might be more to life than reading, she just shrugs and picks up a new book.

When the father Nina never knew existed suddenly dies, leaving behind innumerable sisters, brothers, nieces, and nephews, Nina is horrified. They all live close by! They're all–or mostly all–excited to meet her! She'll have to Speak. To. Strangers. It's a disaster! And as if that wasn't enough, Tom, her trivia nemesis, has turned out to be cute, funny, and deeply interested in getting to know her. Doesn't he realize what a terrible idea that is?

Nina considers her options.
1. Completely change her name and appearance. (Too drastic, plus she likes her hair.)
2. Flee to a deserted island. (Hard pass, see: coffee).
3. Hide in a corner of her apartment and rock back and forth. (Already doing it.)

It's time for Nina to come out of her comfortable shell, but she isn't convinced real life could ever live up to fiction. It's going to take a brand new family, a persistent suitor, and the combined effects of ice cream and trivia to make her turn her own fresh page.
What are you currently reading?
This last week was ridiculously busy. Mum was over and left Saturday morning at the butt crack of dawn and I drove her to the airport and then I came home and fell asleep for way too long. Oops? After that I went out to the cinema for the first time in ages and watched Abominable with my bestie. It was ADORABLE! I had no clue what it was about other than it looked cute and exactly what I needed! I loved that it was set in Asia (China) because it's still so rare to see diverse mainstream movies, especially cartoons. DreamWorks definitely delivered all the cuteness and laughs that I was looking for and I left the theater feeling giggly and buoyant!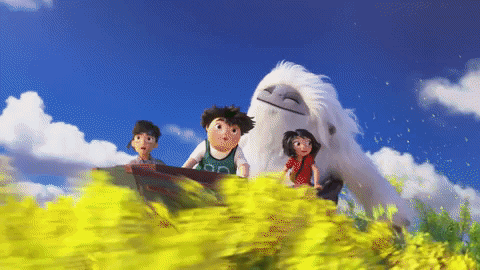 This week was (unsurprisingly) super busy with lots of family things because mum was around. We also had some old family friends visiting, which meant more late nights with dinners and socializing after work. It left me completely drained of energy at the end of every night, so I think I really needed a weekend doing as little as possible. I just realized that October is going to be a really busy month with next week being the only one I have to myself until the end of the month. I have some besties coming to visit me for a little over a week and I'm planning to take a few days off from work to spend time with them. After that the office is having the second round of annual meetings and then the month will be over. I'm finding it ridiculous how quickly time is flying!
Reading & Blogging Recap
It was a pretty meh week on the reading and blogging front. Most nights I would normally spend reading was spent out socializing and when we got home, it was spent chatting with mum. It's moments like these that I miss living closer to my parents (even though only live a short flight over). As it usually is with mothers and daughters, it got a bit rocky sometimes (especially with mum staying over with me in my tiny flat), but it was nice having her around even if it meant I was reading less. The only books I managed to finish this week are the ones I mentioned above. I'm still going on with House of Salt and Sorrows but I haven't read anymore since Friday night because it's a lot spookier than I expected and now I'm alone at home and not sure if I can tuck my chicken away and continue reading at night? I'll bring the book to work and see if I can finish it over my lunch breaks in the coming week!
Despite how hectic the week was I'm impressed that I still managed to post every day, even if it was only one post per day, this week though! Here's a quick recap of what I posted, in case you missed it:
Top 5 Saturday: Books with the Scariest Covers!
Friday Favorites: Favorite Characters That Other People Hate!
First Lines Friday: 04 October
Summer Bucket List Book Tag!
September Monthly Wrap Up!
WWWWednesday: 02 October
Review: Two Weeks Notice by Whitney G
#TopTenTuesday: Books with Numbers in the Title!
Down the TBR Hole – 02
Goodreads Monday: 30 September
I'm leaving you with one of my favorite (if not my favorite) tracks from TS's latest album, Lover. I'm still obsessed with this album and it's kept me company in the background as I read all day today!
How has your week been? Hope everyone has/had a great weekend!
Let me know how you're doing in the comments and let's chat, friends 🙂