I participated in my first ever blog tour earlier this year with TheWriteReads group for Ben Galley's books (check out my review) and now I'm participating in my second blog tour with the gang, this time for the contemporary fiction: A Different Time by Michael K. Hill. Special thanks to Dave for hosting and organising another beast of a blog tour (please check out the other bloggers who have participated as they've all written great reviews for this book)! I'm in awe and super appreciative of all the time and effort you dedicate to TheWriteReads gang, and for bringing such a wonderful community of supportive people together! Special thanks also goes to Michael Hill for providing us with a free copy of the book in exchange for an honest review!
Goodreads: A Different Time by Michael K. Hill
Genre: Contemporary Fiction, Romance, Science Fiction, Magical Realism
In 1989 she spoke to the love of her life.
In 2019 he answered.
Keith Nolan falls in love with a remarkable young woman from the past, talking to him on a home video she recorded. To keep their conversation going, he must find more of her tapes – while forces work against them both – and time is running out.
About the Author
Beginning as a sketch comedy writer for American television, Michael K. Hill progressed to become an internationally published writer of fiction and non-fiction. His short story anthology, Anansi and Beyond, published in 2017, and his debut novel, A Different Time, is available now. He lives in Connecticut with his wife, kids, and 7 rescued animals. You can find out more about Michael on his website: http://michaelkhill.com/
When I first heard about this book, my first thought was OMG, IT'S LIKE THE LAKE HOUSE! You know, that movie with Sandra Bullock and Keanu Reeves? The one with letters and past and future coming together? (The one that I may or may not be trash for…?) Yeah? No? It really doesn't have the best ratings, but I love this duo and this movie is a definite guilty pleasure. BUT I DIGRESS!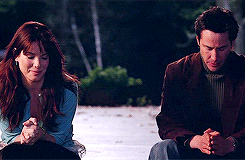 At only 100 or so pages, this book was a very quick and easy read. The premise of this story is really fascinating and I actually haven't read any books based on it. It's told in alternating timelines between the past (1989) and present (2019) and focuses on Lindsey and Keith's lives. There are few side characters so there's not much to distract you from the storyline playing out between the MCs. I really felt for both of them. I think the strongest parts of this story were their characters; their indecision about their next steps in life and their loneliness and desire for company was extremely relatable. The doubt and loneliness make it unsurprising that they're quick to accept the impossible the first time they connect, as they're both desperate for connection, although the concept still requires you to suspend your disbelief.
As much as I questioned the possibility and probability of the events, I read on eagerly, wondering if they would ever find a way to be together and what that meeting would be like considering the large gap in the years between them. You can't help but hope for a surprise that will allow them to be together. Despite being able to predict who Lindsey actually was, it didn't detract from my enjoyment of having it confirmed in the end. It was definitely a bittersweet one that made me feel emotional.
The only thing that had me feeling a little so-so about the story was completely based on my own preference when reading. While I used to be a fan of insta-love back in my younger days *cough* I'm very much not a fan of it now and this was very much what happened between the two. I found that I struggled to get past the fact that they almost instantly fell in love. Considering that this was novella length, I understand why things happened as quickly as it did. This made me honestly wish this book was longer so the story could've been more developed and we would've had the chance to get to know these characters and their stories more because Lindsey and Keith had very interesting backstories and they deserved more development!
That said I'm very glad I got the chance to read this and that I got to be part of this blog tour!
Thanks again to TheWrtiteReads for organising this tour and to Michael Hill for the book!
Have you read A Different Time? Is it something you'd perhaps be interested in reading? Let me know in the comments and let's chat!