Goodreads: The Surface Breaks
Genre: Young Adult, Fantasy, Retelling
Rating:

Deep beneath the sea, off the cold Irish coast, Gaia is a young mermaid who dreams of freedom from her controlling father. On her first swim to the surface, she is drawn towards a human boy. She longs to join his carefree world, but how much will she have to sacrifice? What will it take for the little mermaid to find her voice? Hans Christian Andersen's original fairy tale is reimagined through a searing feminist lens, with the stunning, scalpel-sharp writing and world building that has won Louise her legions of devoted fans. A book with the darkest of undercurrents, full of rage and rallying cries: storytelling at its most spellbinding.
A dark feminist fairytale retelling of the beloved Little Mermaid. If you're expecting something like the Disney movie, you've definitely picked up the wrong book! O'Neill's writing hooked me (hah) from the start and had me rooting for the character I least expected!
Here is another Rusalka made. Another human woman set on fire by an insatiable man, needing to swallow the sea so she can douse the flames in her heart. She will lament her fate for the next three hundred years. She will sing sailors to their graves for her vengeance. And despite everything that I have been told about the Salkas, despite the fact that they killed my Uncle Manannán and drove my mother into the arms of the Sea King, I would not blame her.
Well, this book was certainly not what I expected. Growing up, I had always loved the Little Mermaid best out of all the Disney movies. The music was fun, Ariel was beautiful, her voice was magical and of course, Prince Eric was handsome (dat smile tho)! Even as an adult I still enjoy the movie – mostly for the music, but also for the nostalgia of those childhood days. I had never read the original Hans Christian Anderson story though, but thanks to a circulating Buzzfeed article on the original stories behind Disney classics, I knew it was dark. So when I started this book, I had that half in mind, but also the Disney version I love so much. Still, I don't think I was ready for how dark this retelling would be!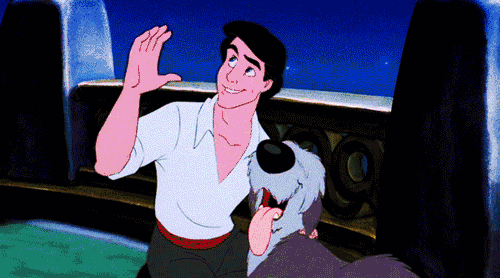 Louise O'Neill paints a bleak story of a radically patriarchal kingdom of merfolk, where mermaids are meant as mere things that obey the every word of mermen and that whatever the merman says, goes. As Gaia escapes this oppressive world she has grown up in, she comes to find that in the human world, women are also ignored and thought of as weak creatures who are only appreciated by men for their looks and "open legs". It was instilled by her father, the Sea King, that women are only good for their beauty and their ability to obey and be quiet, so it is no surprise that she believes the same of men on the surface. Sadly, it is this that gets the boulder rolling downhill, leading to the dire situation she finds herself in as the book progresses. It is a stark allegory of our society and I think extremely relevant, especially considering the rising discourse today. How far we have to go on that front…
She's crazy, we used to say about maids in the kingdom who pursued mer-men relentlessly… I'm beginning to wonder that if, when we call a woman crazy, we should take a look at the man by her side, and guess at what he has done to drive her to insanity.
When I read that this was a feminist retelling of the classic I was wondering what that'd look like and the further I read, the more I appreciated how O'Neill weaved the feminist conversation into the story. The oft-repeated female trope of pitting women against each other is also present in the story, perpetrated by Gaia and other female characters against her; no surprise, considering how much men/masculinity is revered in 'their' world. Gaia wasn't a very convincing feminist main character for a good portion of the book and only grew into it at the very end. She spent the majority of the story blinded to the reality that she seemed to recognize was wrong, only to push it aside because of her desperation to make a man-boy love her. It was a little frustrating but there's no denying that O'Neill did a great job of capturing the restlessness and naïveté of a young girl on the cusp of womanhood. That said, I do wish that there was more of an ending. I felt like the climax and the conclusion were one and the same, so just as I thought we'd see more fight and fierce-woman action from Gaia, the story ended. It was rushed and a little unsatisfying. So much of the story was filled with pining for a boy, a failed love story in a sense, and the story only began to strengthen when the Sea Witch, Ceto, reappeared at the end. Who, by the way, ended up being my favorite character in this book!
"Your religion should help you make the decision if you find yourself in that situation, but the policy should exist for you to have the right to make it in the first place.
When you say you can't do something because your religion forbids it, that's a good thing. When you say I can't do something because YOUR religion forbids it, that's a problem."
Although she went about it in her characteristically evil way, and yes, it was wrong… Ceto was actually empowering and I feel she was the only "true feminist" of the whole book. If O'Neill made a book about Ceto, I'd definitely read it!
Overall, this book really took me by surprise. It was a fairly quick but enjoyable read (even though it had big text which I'm not a fan of, yes I'm one of those people that like small text!). The story certainly didn't shy away from the brutality and anger, but also the passion, strength and love that make this society. Alas, the cute Disney love story was eclipsed by one of the desperate longing of a confused girl filled with wanderlust, who has spent her lifetime searching for answers and fighting all she has known to find her true self. The Little Mermaid will certainly never be the same again.
Also, MAJOR COVER APPRECIATION! Not only are the colors and the details in the artwork of the sleeve beautifully done but the naked cover of the hardback is just as beautiful too with a scale design. Every time my eye passes over where it sits on my bookshelf I just want to pick it up and stare at it because it's so gorgeous!
Have you read The Surface Breaks? Loved it? Hated it? Felt 'meh' about it? Leave me a comment below and let's chat!