I'm back with another blog tour today with Rachel's Random Resources for Inside Voices by Sarah Davis. Thanks to Rachel for organising this tour, and to the author for providing the book in exchange for an honest review.
Be sure to click on the banner below to check out the other bloggers on tour!
Goodreads: Inside Voices
Publisher: Darkstroke Books
Release Date: 23 June 2020
Genre: New Adult Contemporary Fiction
Panda Rating:

The mind is a strange beast…extraordinary, unpredictable, protective.

Penny Osborn's mind is no exception. In High School, Penny witnessed a massacre and lost her father to the same killers. She had seen it unfold before it happened, in a premonition, but could not prevent it.

A college research project at the edge of the Arctic is her chance for a new beginning. Struggling with PTSD, Penny's therapy includes running, dogs, and guitars. Yet her fresh start is plagued by new premonitions, dark and foreboding, that coincide with a rising number of murders in the community. Her visions are vague, offering little to identify the killer.

When confronted with an orphaned polar bear cub, Penny risks everything to save its life. The deepening mystery of the murdered women, coupled with the exhaustive duties of caring for the small cub, draw her closer to her friend, Noah, and further from her sister.

Fearful for the serial killer's next target, Penny discovers where her physical abilities can help her. Will letting go of the past lead to healing? And can she stop the murders?
BUY NOW: Amazon (US)
Sarah Davis is many things…wife, mother, veterinarian, writer. An avid reader, she enjoys stories that transport her into new and exciting lands. Having read more books than she could ever count, she has considered writing a novel for ages. It wasn't until the idea for "Inside Voices" popped into her mind that she finally started pursuing that dream, with much encouragement from her family. She and her incredible husband share their remote home on the prairie with their three extraordinary children and one mostly human weimaraner.
Blog | Facebook (Author) | Facebook (Personal) | Twitter | Instagram (Penny) | Instagram (Author)
Note: The quotes below are taken from an advanced/unfinished copy and are subject to change in the final version.
CW/TW: Some violence (aftermath of school shooting, nightmares of serial killer, polar bear attack), for ages 14+
Inside Voices ended up being quite a different story to what I was expecting and I don't mean that in a bad way. The story itself was really interesting! It's set in Alaska, which I might be mildly obsessed with so that was already a winning point for me, and I enjoyed seeing another side to the frozen tundra. The paranormal elements with premonitions and telepathy also added a unique spin to the story. I would say that this was much more of a "chronicle" of life in Alaska, experienced through the eyes of a unique young woman with a traumatic history, rather than the thriller/mystery that the blurb makes it out to be. That said, it's definitely a story that I think you should go into with as little information as possible and let it guide you through its turns.
"I am happy to be alive. Every day is precious. Life is not easy nor is it fair. But I choose to live it the best way I can."
The book is split into three parts and I have to say that it really starts off quite intensely with a school shooting and hospital bombing. We follow Penny as she deals with the heavy trauma, guilt and grief in the years following the incident. Davis did a great job in creating an atmosphere of confusion and fear in Penny's mind, as well as creating an air of uncertainty in the story itself. There was something "not quite right" with the story and characters, and I continuously questioned whether my prediction was right or completely off throughout the read. I will say that I was right 😉, but I as definitely kept eager to know the truth! The mind is truly a strange beast, and I thought the way Davis presented how Penny's mind dealt with so much trauma was both really heartbreaking and fascinating!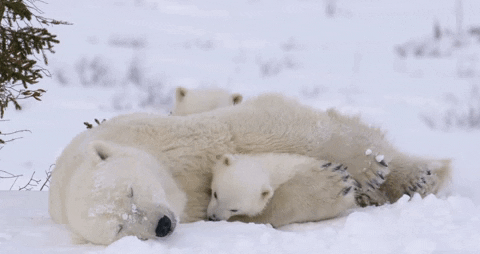 One of the coolest aspects of the story was Penny's unique connection with animals. I don't know about you, but there have been plenty of times in my life when I've wished for the ability to understand or communicate with animals, and I thought that was really fun to see here! Unsurprisingly, the scenes involving the dogs and polar bear were my favourite and there were plenty of those, too. In this story, we see a more "normal" side to Alaska that I haven't seen before, and Davis highlights a key concern for the communities in the area, and that's the impact of climate change on the frozen tundra and its many arctic species. You can definitely tell that Davis has done a lot of research on the subject and it's presented well.
"What I meant to say is that being tuned differently means you can play in a unique key."
Although there was a lot to enjoy in the story, there were also times I felt the execution of it could've been done better. One of my main issues was the dialogue that felt overly formal, and it was quite jarring at times, especially when Penny and Noah spoke to each other. The way the dialogue was written was honestly so stiff, it didn't seem to me how young people would talk to each other. There were also times that I found myself getting frustrated with Penny's behaviour, and I had to remind myself she wasn't a teenager (she was 21/22) because she could come across as quite juvenile. In the end though, there was character growth and the story wrapped up nicely. I felt at peace with how everything worked out. Penny and Noah were very sweet together–the romance grew organically and was 100% clean–and I loved the picture of contentment that they made with their family of furry friends.
TL;DR: A unique story about a girl dealing with trauma, grief and guilt, while rebuilding her life in the harsh and beautiful landscape of a remote Alaskan village. Davis explores just how powerful the mind can be when coping with trauma and she tells the story in a unique way. While not perfect, I'm glad that I had the chance to read this book. It was a good debut!
THERE'S A GIVEAWAY for a $15 Amazon Gift card

ener the giveaway ➡️ HERE
*Terms and Conditions –Worldwide entries welcome. The winner will be selected at random via Rafflecopter from all valid entries and will be notified by Twitter and/or email. If no response is received within 7 days then Rachel's Random Resources reserves the right to select an alternative winner. Open to all entrants aged 18 or over. Any personal data given as part of the competition entry is used for this purpose only and will not be shared with third parties, with the exception of the winners' information. This will be passed to the giveaway organiser and used only for fulfilment of the prize, after which time Rachel's Random Resources will delete the data. Rachel is not responsible for the despatch or delivery of the prize
Have you read Inside Voices or is it on your TBR?