Goodreads: What If It's Us
Genre: Young Adult Contemporary, LGBTQ+, Romance
Panda Rating:

Arthur is only in New York for the summer, but if Broadway has taught him anything, it's that the universe can deliver a showstopping romance when you least expect it.

Ben thinks the universe needs to mind its business. If the universe had his back, he wouldn't be on his way to the post office carrying a box of his ex-boyfriend's things.

But when Arthur and Ben meet-cute at the post office, what exactly does the universe have in store for them?

Maybe nothing. After all, they get separated.
Maybe everything. After all, they get reunited.
But what if they can't quite nail a first date… or a second first date… or a third?
What if Arthur tries too hard to make it work… and Ben doesn't try hard enough?
What if life really isn't like a Broadway play?
But what if it is?
You know that happy bubbling feeling you get inside your chest after you finish reading a great book? How it feels like you could just burst with all the satisfying emotions that are trying to clamber its way up your throat and out your chest? No? Yes? Well, this book had me feeling this way when I finished it yesterday. Y'all, this book made me so happy! Becky Albertalli and Adam Silvera have delivered a wonderful contemporary YA romance about firsts, friendships and believing in yourself. This was a fast and fun read that had me constantly barking out with laughter throughout (this garnered me much unwanted attention from the public and I absolutely could not care)! Tbh, I think this is the first Silvera book I read that I didn't cry over? It left me with all the great feels without any of the sadness! Basically, if you like Hamilton, Lin-Manuel Miranda, Broadway (Dear Evan Hansen etc.), Harry Potter, and Barack Obama, then you will like this book!
"I believe in love at first sight. Fate, the universe, all of it. But not how you're thinking. I don't mean it in the our souls were split and you're my other half forever and ever sort of way. I just think you're meant to meet some people. I think the universe nudges them into your path."
When Arthur and Ben have a random moment of connection outside the post office one day, Ben is mailing a box of his ex's belongings to him and Arthur is captivated by his beauty, so obviously, he follows him inside. Their meet-cute is slightly awkward (Arthur has no chill) and geekily adorable, and they're getting along just fine, until a flash mob in the post-office pulls them apart without having exchanged names or numbers. Arthur is a big believer of the universe, so would it throw him and this beautiful boy together for no reason at all? He doesn't believe it. So begins the story of one boy trying to find that boy from the post office in a city of over eight million inhabitants. No big deal when you think the universe is on your side, right?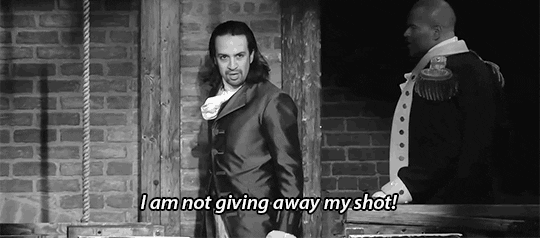 Maybe their connection was improbable, slightly corny or a little cliché, but this story was just all kinds of awkward, and adorable and was an absolute delight to read! There were so many things I loved about it: the characters, their stories, the friendships, the NYC setting, and Arthur's fantastic obsession about Hamilton, the greatest musical to have ever been written (don't @ me). Also, all the mentions about Lin-Manuel Miranda. The last two made me love this book even more because when it comes to Hamilton and LMM, I am 1000% Arthur serious, and that's serious.
"God, Arthur." He kisses me. "Te quiero. Estoy enamorado. You don't even know." And I don't speak a word of Spanish, but when I look at his face, I get it."
Ben and Arthur were such great characters and I honestly loved how their relationship grew. Although things moved pretty quickly between them once the ball got rolling, especially considering that they only had the summer, it didn't feel contrived to me. There were lots of awkward firsts and do-overs, but their connection, banter, and love felt completely natural and perfect in its imperfections. Arthur's experience of being in a relationship for the first time was so relatable and I couldn't help but recall my own first relationship experience! Albertalli and Silvera did a really great job in describing the rush of having a crush and the high of discovering first love, but also about the importance of having people in your life who you can trust, be yourself around, and be supported by. Although this was a romance, I really enjoyed the friendships between Arthur, Ben and their best friends, as it reminded me so much of my own high school friendships with my own 'crew'. Even the drama that erupted between the friends seemed so typically high school, and it really had me chuckling when thinking back on my own experiences.
I liked how the authors also highlighted the struggles and vulnerabilities that teenagers can go through and/or feel during this period (with friends/peers, school etc.); where it feels like you have to know what you'll be doing once HS ends, what college you want to attend, what major you want to do. Ben's struggles with school, and his overall insecurity of not being good enough and not believing in himself were so real, and I felt his struggle on such a personal level. Figuring himself out and finding his worth and confidence in himself was a key aspect of his character's growth.
"I just need more time with me, I think. To really believe in my worth without anyone's help."
MILD SPOILER:
I'm giving this book 4.5 stars because the hopeless romantic was crushed with that ending. Open-ended endings always leave me feeling a little dissatisfied, and this was definitely one of them… I mean, I can acknowledge that the ending was sensible… but I didn't want sensible, I wanted ALL THE THINGS for all the characters, damnit!
I'm so glad that I picked this book up yesterday. I really enjoyed reading it, how much it made me feel and how far down memory lane it let me stroll! I'm so glad that this was my first LGBTQ+ read for pride month!
Have you read What If It's Us or is it on your TBR? What did you think of Albertalli's & Silvera's collaboration?