Goodreads: Sorry I'm Late, I Didn't Want to Come
Publish date: 28 May 2019
Publisher: Andrews McMeel Publishing
Genre: Non Fiction, Memoir
Rating:

An introvert spends a year trying to live like an extrovert with hilarious results and advice for readers along the way.
What would happen if a shy introvert lived like a gregarious extrovert for one year? If she knowingly and willingly put herself in perilous social situations that she'd normally avoid at all costs? Writer Jessica Pan intends to find out. With the help of various extrovert mentors, Jessica sets up a series of personal challenges (talk to strangers, perform stand-up comedy, host a dinner party, travel alone, make friends on the road, and much, much worse) to explore whether living like an extrovert can teach her lessons that might improve the quality of her life. Chronicling the author's hilarious and painful year of misadventures, this book explores what happens when one introvert fights her natural tendencies, takes the plunge, and tries (and sometimes fails) to be a little bit braver.
Non Fiction is a genre that I don't normally pick, not because I don't want to read them, but most of the time I struggle to find something to catch and hold my attention. Sorry I'm Late, I Didn't Want to Come was my first NF read of the year and I absolutely loved this book! I honestly don't know why it took me so long to finish it and I'm sorry that I didn't get to it even sooner; although I'm convinced that I picked it up when I really needed it most. I've already recommended it to countless friends who've mentioned something in passing and my brain would ping back to things mentioned in this book. It's not a self-help book but it's filled with such relatable experiences. Not only that but it was just downright hilarious! I don't think there was one chapter in which I didn't laugh my ass off at least once (seriously). With a title like that, how can you resist wanting to pick it up right?
We follow Jessica Pan, a shin-trovert (shy introvert) who faces a bit of a 'midlife crisis' after moving to the UK and struggling with her increasingly introverted life and inability to make meaningful or even non-meaningful connections with people. After confronting a health-scare with a member of her family, she decides to embark on a one-year journey doing extroverted things that would make all introverted people want to curl up in a corner and cry about. Things like stand-up comedy, public speaking, improv, and *shudder* striking up conversations with strangers. What follows is a personal and hilarious recounting of all her experiences and what she took away from living life as an extrovert for a year.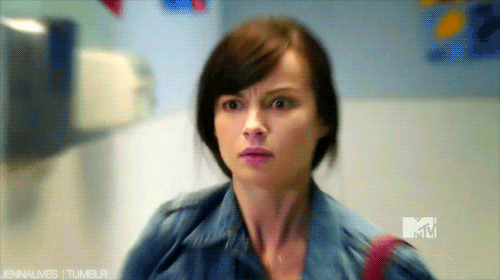 This book brought me great comfort at a time when I was feeling such debilitating anxiety and stress due to an event in my life that required me to speak in front of close to 100 people, followed by networking with all those people who just witnessed me most likely make a fool of myself. Public speaking is still insanely uncool but when I came across Pan's own experience with it in this book, I found myself completely awed and enamored by her courage to get up on that stage to face one of everyone's greatest fears. It wasn't smooth sailing, and to be honest, my actions at the time mirrored hers in the book 100% (i.e. pushing off making my presentation until the very last minute due to intense fear). But it made me want to steel myself and plunge forward just like her. Obviously, it wasn't as simple as wanting to do it, but the fact that she, someone who I saw big parts of myself reflected in, could do it, then I could too, right?
There's no greater comfort in knowing that there are others out there who experience the same fears, and feelings of loneliness, as well as anxiety about what to do with it. Like Pan all my friends are scattered across the globe and since moving to where I am now and entering my 30s, I've noticed it has become progressively harder to make friends. Or even to just meet people in general. While I couldn't see myself doing half of the things she did, I liked the insight that she gave through her experiences. I think at the end of the day, it's not really about realizing being extroverted or introverted is better than the other, but knowing that putting yourself out there, even when you really don't feel like it, can often times lead to really great, and sometimes even life changing things.
This was such a fantastic read and I know that I'll always want to keep it on my shelf so that I can go back to it whenever I'm feeling overwhelmed by my increasing need to introvert. This book was written in a very conversational tone so that none of the moments felt dull and it kind of felt like just chatting to a friend. I'd highly recommend it!
Thanks to NetGalley, Jessica Pan and Andrews McMeel Publishing for providing the e-ARC for an honest review.
Have you read Sorry I'm Late, I Didn't Want to Come? Did you love it? Hate it? Feel 'meh' about it? Come let me know in the comments and let's chat!