The Beneath Black Sails series is currently unfinished and this is a review of the first two books. There's a prequel novella that I haven't read and probably won't? According to Goodreads, the third and fourth books will be published sometime in 2021!
Beneath Black Sails (Beneath Black Sails #1)
Genre: Fantasy Romance
Panda Rating:

Sometimes it takes a pirate to catch a pirate.
With weather magic on her side, Lady Vice is the bane of the high seas, but she isn't captain of her own ship. Yet. If she can persuade her captain to give her a command, she'll be in charge of her own fate.

To pay off his family's debts, Knigh Blackwood hunts pirates for the Royal Navy. And he's damn good at it. When the bounty on Lady Vice increases, he's determined to make her face justice, even if that means using unorthodox methods.

Forced to work together, neither can deny their mutual attraction. As they face battles at sea and schemes aboard their ship, they discover hints about a long-lost treasure that could be the answer to both their problems.

But treasure isn't the only thing buried. Secrets best forgotten lie in wait that could blast them apart. And the closer Vice and Knigh grow, the greater the threat – to her freedom and to his family. Because for one to succeed, the other must fail.
This was a fast-paced and action-packed high-seas adventure with interesting characters and a good dose of a slow-burning fiery enemies-to-lovers romance. This was probably the most pirate-y romantasy that I have ever read and you know what? I was totally here for it. Major props to Sager because you can tell she has done her research and actually, the way she talks about ships and sailing breathes it to life! Vice and Knigh were polar opposites that oddly complemented each other, and had an interesting enemies-to-lovers romance that progressed naturally, but their sexual chemistry was obvious from day one. Vice took some getting used to and Knigh was also an imperfect hero, but they both experience a lot of growth and I was invested in their arcs. If you're into nautical fantasy or romantasy then this is definitely one you should check out because it packs an entertaining punch with lots of fun twists and tons of pirate shenanigans!
My biggest frustration with the book was the lack of world-building. Sager sets the scene in a way that expects us to already know about the world and thus scant detail about the setting is provided. The author provides a detailed note at the end of the book where she divulges more information, but I felt like I learned more about the world in her note than I did in the whole book. Overall, a highly entertaining start to the series and after that tumultuous ending, I can't wait to dive into book two!
Against Dark Tides (Beneath Black Sails #2)
Genre: Fantasy Romance
Panda Rating:

Enemies. Lovers. Enemies once more. Now they must work together to survive. 

Notorious pirate Lady Vice has lost everything: ship, crew, and friends. Even her body has betrayed her, leaving her magic weak. To make matters worse, she's stuck at sea with the man who stabbed her in the back.

Knigh Blackwood is no longer a captain, no longer a pirate-hunter, no longer … anything. All he has left is the woman he betrayed, and she'd rather cut out his tongue with his own dagger than forgive him.

There's just one thing that might make up for what they've lost: Drake's treasure.
But they're not the only ones searching for clues and the elusive X that marks the spot. Between them and the treasure stand a scheming duke, a former lover, and a sea monster thought the stuff of legends – not to mention Vice and Knigh's complicated feelings for each other.
Can you hear that? It's the resounding sound of disappointment!!! *womp womp womp…*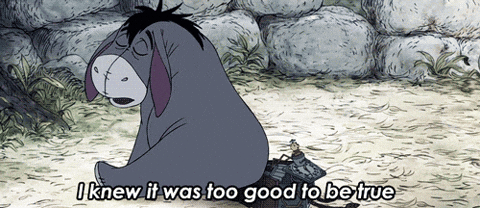 So… WOW, Vice made it really really really hard for me to love this book. Like, really hard. She took some getting used to in book one and redeemed herself by the end, but I was up to my eyeballs and drowning in frustration with her naïveté and childish petulance in this book and it really took the enjoyment out of the story for me! With the way book one ends, it's no surprise that there would be a good dose of angst in book two, I just didn't expect so much of it, and it took away from the fun of the story. While Vice was just plain bad, I found Knigh frustrating at times too. Their character arcs were just so woefully repetitive and although they do come to realise what they could've done better/differently, they really don't grow.
The only character who saved the book for me was Perry. She's not only a great trustworthy captain but an amazing friend. We get to see a strong friendship grow between Perry and Knigh and her influence on him was not only soothing, but I thought she also really brought out the best in him. We get a stronger villain in this book and he was truly despicable but I'm very curious about Mercia and how he's linked to Knigh's past and what role he'll play in the future.
Overall, while we get more high-seas adventures and there's even a treasure hunt and the introduction of The Kraken(!!), I'm sad to say that this was a pretty disappointing sequel. I really wanted less Vice and more Perry, as well as the blossoming friendship between Perry and Knigh. That said, I feel like I want to know what happens next because the end of book two did seem promising. I hope that I'm not disappointed again!
And that's a wrap, folks! Do you find sequels are more often disappointing than not? Have you read any of the Beneath Black Sails series or is it on your TBR?