It's that time of the week again, friends! We're back with another Top Ten Tuesday, a weekly meme hosted by That Artsy Reader Girl. This week is a Character Freebie and since I've just finished reading a book that reminded me why I love reading about books in books and characters who are passionate about books, I thought I'd do my post today on bookish characters that I'd like to befriend. Most of these characters might be from my more recent reads, since they're fresher in my mind. Either way, I'd love to be friends with these fellow book lovers–I think we'd have so much fun reading?! Without further ado, here we go!
Elisabeth Scrivener from Sorcery of Thorns by Margaret Rogerson. This book and this lady is my inspo for choosing today's topic. I would probably feel safe being Elisabeth's friend in a library because I know she's bad ass enough to protect me, if I can't protect myself 🙃 She just seems like a really cool girl. Also, Sorcery has fast become one of my favorite reads this year so all I'm going to say is (please) READ IT!
Kya Clark aka Marsh Girl from Where the Crawdads Sing by Delia Owens. Kya is… one of the strongest characters I've read in recent years. Her development and growth blew me away and I would love to hang with her in the marsh, exploring the beauty of nature that she captures through her books. I think she'd be an amazing friend to have, which is one of the reasons my heart broke so much when reading this book.
Tanner Scott from Autoboyography by Christina Lauren. It's pretty obvious Tanner is a bookish character, especially since the book revolves around him writing a book within four months. Tanner sounds like he'd be so much fun to hang out with and his heart is so pure, I'd love to have him as a friend (so we can talk about books, boys and everything else).
Cath from Fangirl by Rainbow Rowell. I think the title of this book pretty much sums it up. Cath is a super relatable character (book nerd and fangirl) and I'd love to have met someone like her at uni (or even now, really). I feel your thoughts, girl.
Elizabeth Bennet from Pride & Prejudice by Jane Austen. Although this book appears so often on my blog, I would be remiss to not include both the character and book in this list because Elizabeth is a classic bookworm. I love this book, and her character and I love that she values books and reading so much! I don't know what it'd be like to befriend her, but I really want to be 😂
Penny Lee from Emergency Contact by Mary H.K. Choi. She's awkward, full of anxiety and totally absorbed in her make believe worlds, but I'd absolutely love to be Penny's friend. I think she'd definitely make you work to be her friend, but it would be 100% rewarding. Buried deep under all that outer awkwardness, I think she just wants to be a cinnamon roll.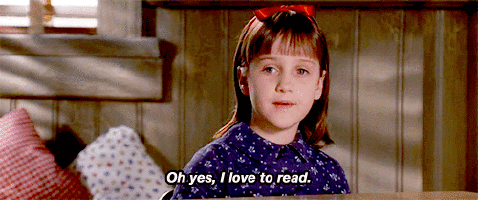 Matilda Wormwood from Matilda by Roald Dahl. I mean, who wouldn't want to be friends with this adorable, witchy little bookworm? It'd be so much fun! Would avoid diabolical Trunchbull and her weirdo "parents" at all costs though!
Belle from In Bed with the Beast (Naughty Princess Club #2) by Tara Sivec. If you can't tell, this is a retelling of Beauty & the Beast. This Belle works at a library and as the title suggests, gets to share a bed with a very sexy beast. I loved Belle's nerdiness and all the facts she would spew at very inappropriate moments! If we were friends, I reckon I'd be laughing and reading 24/7, not to mention I'd learn so much!
Lazlo Strange from Strange the Dreamer (Strange the Dreamer #1) by Laini Taylor. So at the end of this book, Lazlo becomes something more than just a Junior Librarian, so it'd be amazing to have a friend with such powers. But on the real, Lazlo is such a genuinely sweet, good guy who loves books and the stories as much as all of us book lovers (if not more)!
Honorary Mentions:
(The OG) Belle and Hermione Granger. Obviously these two have to make it onto this list because they're classics just as much as Elizabeth Bennett is and I'd love to be both their friends. Hermione would teach me so much magic (and just knowledge in general lol) and I would get lost in Belle's (and Beast's) library and basically end up living in that grand place.
Would you want to befriend any of these bookish characters?
What character freebie have you done for today's Top Ten Tuesday? Leave your link in the comments and let's chat characters!